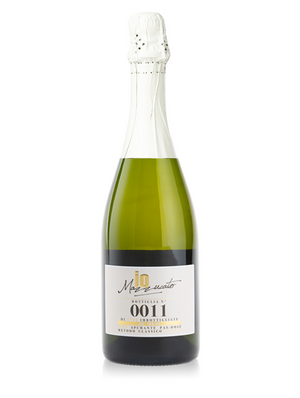 Classic method white sparkling wine
VINES
Vespaiola 50% Pinot Nero 50%
ALCOHOL CONTENT
12,5% vol.
SERVICE TEMPERATURE
4° – 6°
SUGAR PRESENCE
Pas Dosè.
HARVEST
Within the first half of August.
VINIFICATION OF THE SPARKLING BASE WINE
After an attentive selection of the clusters, these are softly pressed and only the first dripping from the first pressure is fermented in stainless steel at a temperature of only 15°C. at the end of the fermentation the ageing finish on the finest noble lees.
SECOND FERMENTATION AND AGEING ON THE LEES
In the following springtime after the harvest, the base wine is elaborated with the second fermentation at a temperature of 15°C for approximately 70 days. Second fermentation completed, the bottles remain piled up for at least 36 months with a 'remuage' every six months. The final 'pupitre' set vertical set allows the clarification to the 'degourgement' of our White Pas Dosé.
ORGANOLEPTIC NOTES
Straw yellow color, with a fine and persistant 'perlage. At the nose it reveals citrus fruity and esotic notes. Scents of lemon, cider, pineapple and passion fruit, pairing with floral notes before the precise, net and elegant sipping. Good body structure and an excellent freshness, final closing with greatest persistence.
PAIRINGS
Must be uncorked for the most important aperitives of the week end, it's great with the shrimp and mango tartare.
BOTTLE SIZE
0,750 l.